Upcoming Classes

There are no classes currently scheduled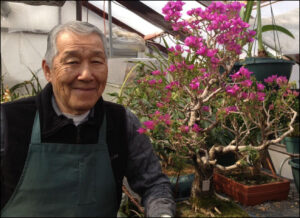 This will be a unique opportunity for you to participate in a small workshop setting with a Master Bonsai Artist, Harold Sasaki. Since sessions with him are limited to private one-on-one instruction and consult basis, you will have the chance to take part in a blended experience in a real life setting, which will result in your own bonsai creation.
This most important of classes will give you a solid foundation and working knowledge of not only sustaining bonsai in Colorado, but helping them to flourish in our climate. His informative and entertaining workshop will debunk the myths, fiction and misconceptions surrounding this living art form. He'll give you the facts and how-to's of keeping bonsai alive.
You will begin your journey of learning with a translation of the Japanese word "bonsai". From there, you will learn some of the science behind the art, which will aid you in successfully growing bonsai in Colorado. You will find out how to select plants that will survive in your home, or in the yard, through the changing seasons.
After a detailed demonstration of potting, trimming and wiring, you will have a hands-on experience of creating your own finished bonsai, which you will take home with you. Included in the cost of the workshop are a tree, ceramic pot, wire, soil, and gravel. We will lend you the tools you will need for the workshop. We also provide a class outline and space to take notes.
***Additional tools, books and supplies will be available for purchase on the day of class.
Time: 9 am- 12:30 pm for instruction, then 12:30 pm – 1:00 pm for sales of selected pots, plants, and tools.
Cost: $175 class price
Address: West side of Denver Metro area, address given on paid registration
Location: Classes will be held in one of the greenhouses. Please park on the street, proceed up the driveway, through the gate on the right-hand side of the garage and follow the sign to the greenhouse.
Important notes:
Dress for comfort: Please bring a light jacket or sweater and sunglasses for the start of class in the cooler morning temperatures, with shorts and short-sleeved shirts as the sun warms the greenhouse quickly. This is a working nursery (small, but mighty), so tennis shoes or solid base shoes are best for uneven ground.
Workshop location and information: in your paid registration email, you will be provided with our address, directions, and helpful tips for your workshop. This helps to prevent no-shows (forfeit registration fee with notification of illness before the workshop starts) and coming on the wrong day.
Inclement weather:  In the case of a sudden weather change to storms or high winds, we will contact you by phone and email to let you know we are rescheduling
Everyone will be wearing a  face mask over the nose and mouth (smiling underneath it)
Maintain social distancing as much as possible.
Location:   Workshops will be held in one of our greenhouses. Please park on the street (look for the cone by the mailbox), proceed up the driveway, through the gate on the right-hand side of the garage, turn left and follow the cones to the 3rd greenhouse with 3 cones at the door.  It is at the fence line on the opposite side of the yard.  You will be notified by email how to find it when you arrive.
Please bring a snack and water, if you need to eat before class ends around 12:30 p.m.  
Workshop minimum is 5 students and the maximum number of students in the workshop is 6.  (If we do not reach the minimum, we will be in contact to reschedule you to another date.)
Not wheelchair accessible:  Be aware that there are steps and uneven ground, so it is not suitable for wheelchairs or those who have difficulty walking.
Repeat students: If you have previously taken a workshop with us, you may choose a 2nd option of an indoor species selected for success in Colorado, subject to availability.
*** Rescheduling is only available in case of sickness.  Please let me know as soon as you are aware that you won't make a workshop due to illness.  Otherwise, you will be considered a no-show, and your seat forfeited.

Confirmation of your registration:  Your email receipt is your confirmation.
We look forward to seeing you in class!